Customer Support Tools: Zendesk vs. Desk vs. Freshdesk
Managing customer feedback is critical to the success of any business. Thankfully, a couple of great tools have emerged to make this easier.
Once your product becomes even mildly successful, you'll notice that you'll get a lot of feedback, bug reports, and feature requests. As a good "social netizen" you are also present on Twitter and/or Facebook to stay in touch with your users and to listen to conversations they have about your product.
This influx of incoming messages can get overwhelming - both for you and the tools you use, e.g. email and Twitter clients. Specialized help desk solutions can offer a way to handle all your incoming messages in one place, allowing you to better collaborate in case more than one person works on these messages. It also lets you get a better overview of the messages that come in and how they relate.
In this article, we've taken a look at three of the more prominent solutions out there: Zendesk, Desk, and Freshdesk.
Before we go into the specifics of each helpdesk solution it's important to state that all three contenders have a great number of features in common. These are the features you'll get with all three:
Support Channels
All three services offer various channels that your customers can use to contact you: email, Twitter, Facebook and community forums. The messages from all services go into a combined queue of 'support work'.
Views / Queries / Filters
Depending on the number of requests you receive it's usually a bad idea to have them all in one queue. Views (sometimes called "queries" or "filters") help you to slice and dice the workload into manageable lists. For example, you could have an "Urgent" list that separates emergency tickets from the rest.
Creating a view is usually straight forward: select a couple of criteria, give the list a name and you're done.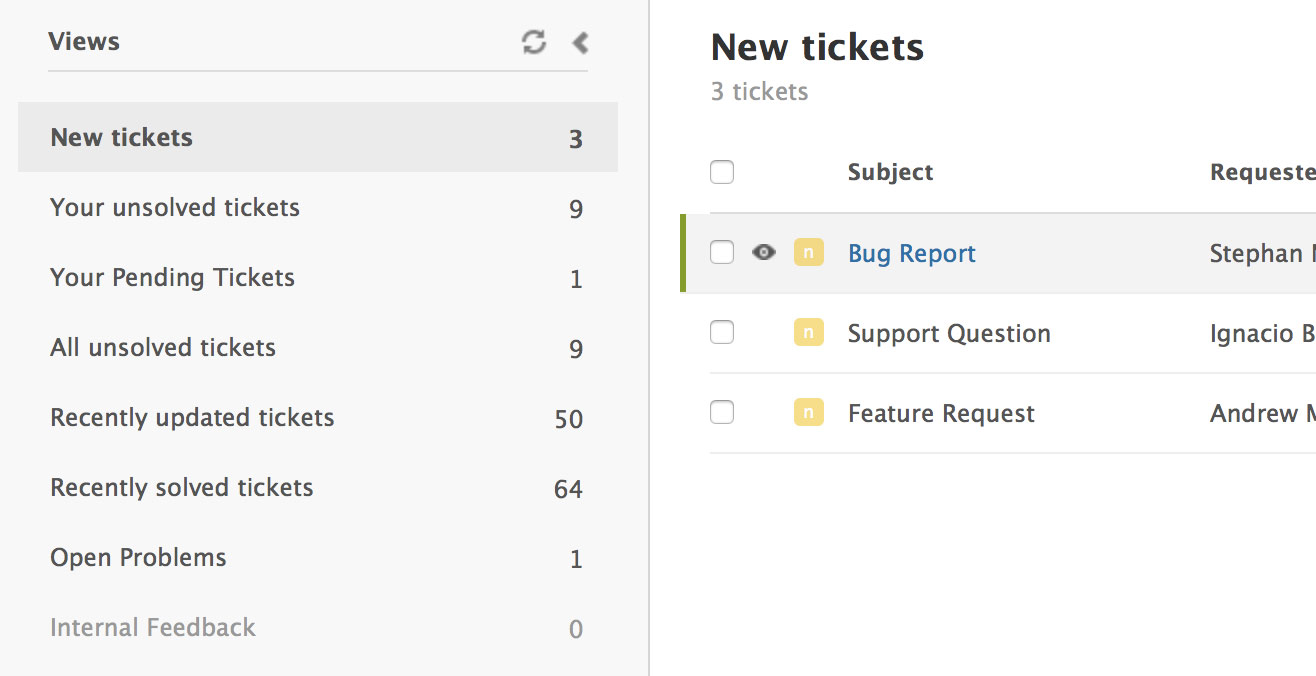 Business Rules
Having a couple of views in place is great, but manually sorting the tickets into these views is a tedious job. This is where business rules come into play. Using them, you can modify incoming support tickets to set priority, automatically assign tickets to a user/department, apply tags and much more.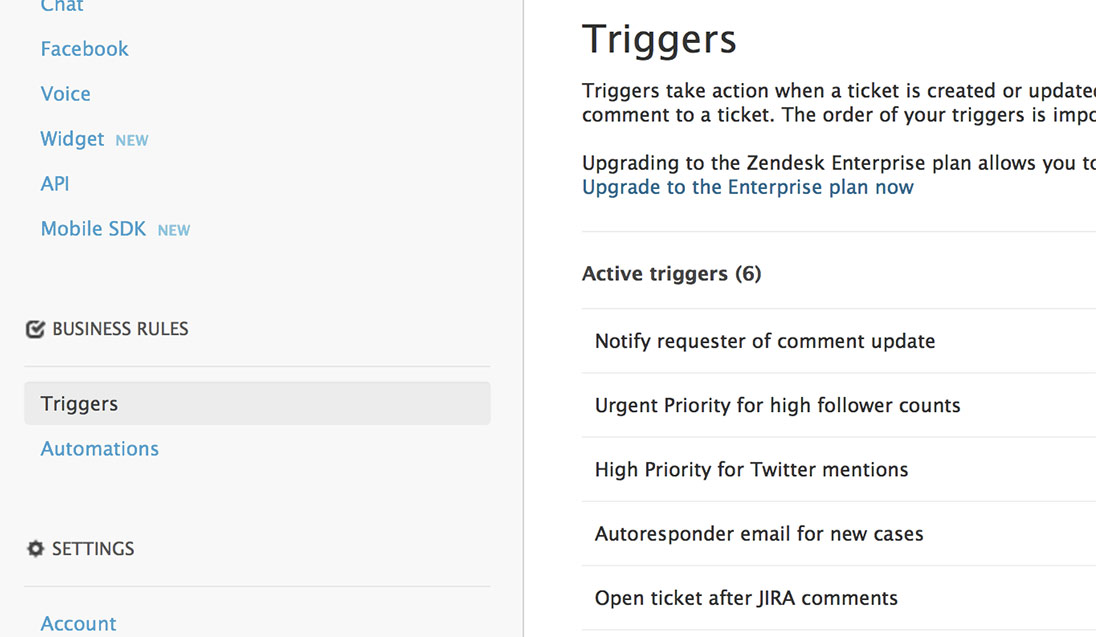 Canned Responses
All three solutions offer a way to use a library of snippets that you can re-use. If you have things that you need to describe to users regularly, canned responses are a great way to speed up writing a response.
Third-Party Integrations
It's easy to integrate your helpdesk solution with other applications, as all three candidates offer a variety of integrations with other services like e-commerce, bug tracking, customer relationship management and many more.
Integrations for Zendesk, Desk, Freshdesk.
Pricing
You can't call it a "feature" exactly, but pricing is certainly an important factor, too. All three solutions are priced somewhat similar, with Freshdesk targeting a more price conscious audience. However, depending on your setup and specific needs, it can pay off to compare. Especially keep an eye on the "starter" plans if you are a start-up or a small company.
Pricing for Zendesk, Desk, Freshdesk.
Now, let's take a closer look at each platform's specifics...


Zendesk

Zendesk was founded in 2007, so by internet standards, it's been around forever. Being the oldest solution we've looked at, it has pros and cons. Zendesk is robust and battle-proven, i.e there are a lot of little things Zendesk does right, just because it's been around long enough to see what works and what doesn't. As far as the workflow for the support agent goes, it's best-in-class.
Social support via Twitter and Facebook feels like a bit of an after-thought. Twitter mentions/DMs and Facebook wall posts can be easily integrated in your existing views, but if you like monitoring your brand on Twitter through custom Twitter searches, Zendesk feels a little clunky.
Having said that, Zendesk is still a great solution. There is a good reason why companies like Groupon, Shopify and OpenTable handle their support using Zendesk.
Desk

Before it was acquired by Salesforce, Desk was named "Assistly". Desk has a modern user interface and is on par with Zendesk in this regard. Social support was available from the start and is easy to use. Monitoring your brand on Facebook and Twitter is really easy.
Desk also offers native mobile apps, so your support agents can reply to support tickets on the go.
Since Desk was acquired by Salesforce, it's well integrated into the Salesforce platform. If that's important to you, because you already use their products, Desk is definitely worth a look.
Freshdesk

Freshdesk was launched in June 2011 and has been growing steadily ever since. One of the good things about Freshdesk is that - from the get-go - it has been addressing concerns users had with other helpdesk solutions. Social support has been baked into its foundation and feels just natural. The user interface for the support agents is a bit on the playful side, but it's still very efficient.
You might have already noticed that Zendesk, Desk and Freshdesk are very similar in terms of features. Therefore, be sure to take the free trial (which each of them offers) - and choose the one that "feels right" in your unique situation!