Coming Up on the Roadmap (2022)
In this post, let's look into the future and reveal some of the exciting features that are on our roadmap for the next 6 months.
Last year had its fair share of memorable highlights: Commit Composing and the new set of Branch Management Tools kept Tower for Mac at the forefront of Git clients, while Tower for Windows saw its biggest update to this day when version 3 was released.
The stakes are high, but so is our determination. Let's have a look at what you should expect in upcoming versions of Tower.
Before we dive in, allow us to explain our thought process. When it comes to features, every decision we make revolves around 3 key concepts:
Power;
Productivity;
Ease of use.
At the Tower remote office, this has been a development philosophy since the early days. In short, we aim to build a tool that brings you the full power of Git in an accessible (and fun!) way. We are well aware that Version Control is an important part of the daily workflow for most developers, so we also want to make sure that Tower (and Git) doesn't get in the way.
In the near future, we aim to bring feature requests faster into the app and improve the onboarding process. Let's see what we have in store, shall we?
Time for a guided tour!
Let's start with some great news for our Windows users: Undo is coming to Tower 4! 🥳
Undo is one of Tower's most beloved features. Having the ability to simply hit CTRL + Z to quickly rollback any undesired Git action is a huge a confidence booster, and we're delighted to declare that Tower for Windows users will soon benefit from this helpful feature.
In the meantime, have a look at everything you can undo on the Mac version.
UPDATE: In the meantime, Tower 4.0 for Windows has already been publicly released. Read the announcement and update Tower to start undoing!
Merge & History Improvements
Many of our top-requested features concern Merge and History improvements. We will be bringing many of these in version 9!
We target improving the handling of merge conflicts in the Working Copy file list and we will add Merge Conflict indicators for the pull and merge actions (similar to the ones you can already see when you activate the "Compare Branch" feature).
That's just the tip of the iceberg, though. You will also be able to:
auto-stash for merge actions;
filter files with merge conflicts;
reset resolved entries so that you can re-merge them.
We will take this opportunity to put the History view under the microscope as well.
You'll have an easier time jumping to branches or commits in the history, be able to see which branches a specific commit is on, and auto-expand commit changesets depending on a configurable threshold, so that you can quickly grasp everything that has changed.
UPDATE: In the meantime, Tower 9.0 for Mac has already been publicly released. Update your version of Tower for a better merge experience!
New Dashboard and Onboarding
We have our sights set on creating a new Getting Started and Onboarding experience.
We will bring a shiny, new unified experience of the Services and Bookmarks view, so that you can easily view and manage repositories in a single layout.
Here's a concept image that better illustrates our vision for the new Dashboard. The design is still subject to change, of course, but we would love to hear your thoughts!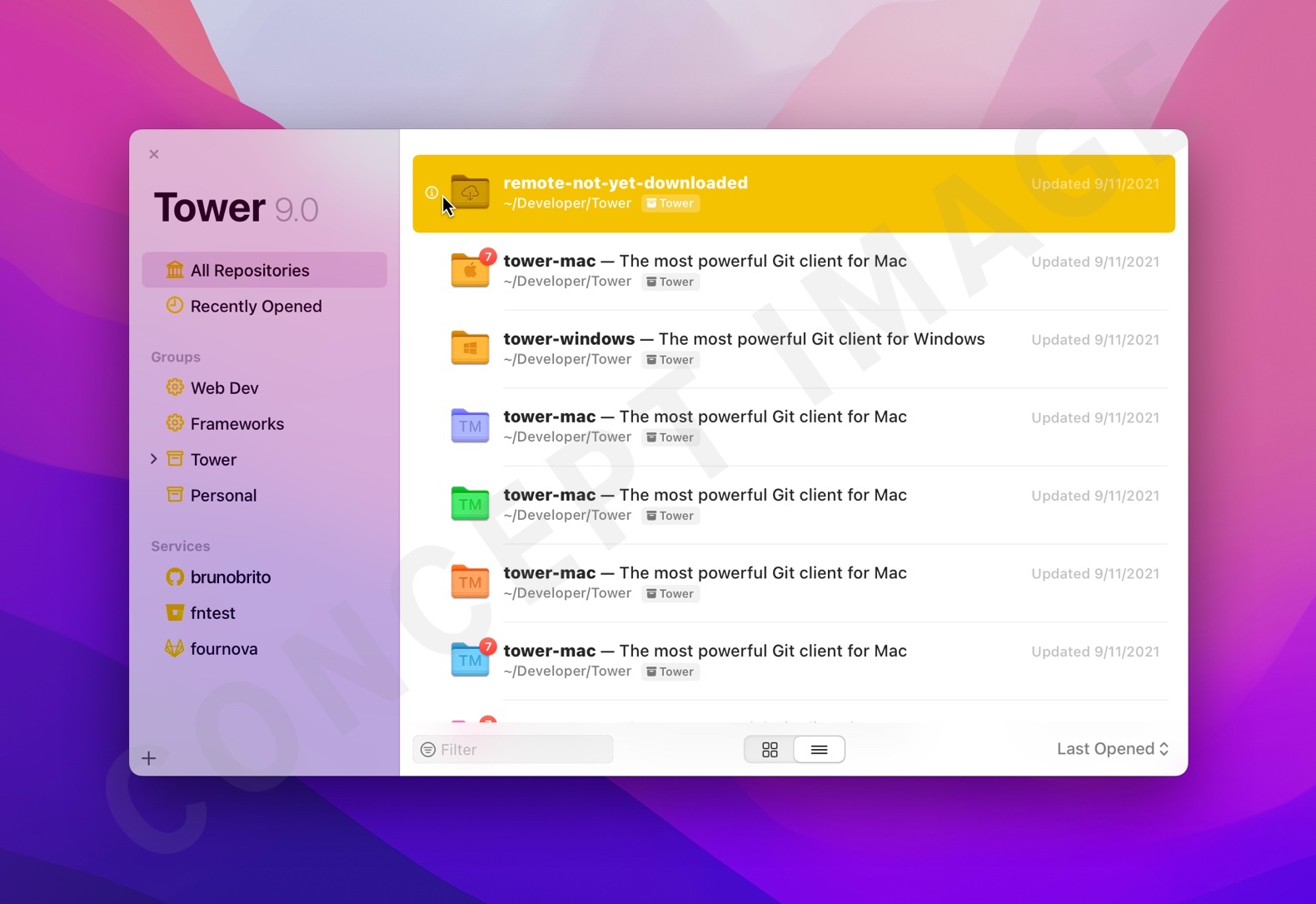 We also plan to simplify the way you can create and authenticate service accounts. Finally, our revamped window management will allow opening submodules in their own tab/window.
Team Onboarding
Customer Portal
macOS
Windows
Our Customer Portal will also undergo some changes so that new team members can easily join Tower.
We will implement Single Sign-On (SSO), so that people can add themselves to the team, and allow users to log in with several identity providers, such as GitHub, Apple, and Google.
We will offer team members the option to invite their colleagues, which is something currently exclusive to admins. This option — available both in the Customer Portal and directly in the apps— can be set at a team/company level. If not allowed, new team members can still be proposed to admins.
Currently, a new team member can only be invited if there's a free seat available — we would like to change that. In the future, if there are no seats available, new team members can still be added to the team, with a trial period being granted.
Final Words
The next 6 months already look very promising for both Tower for Mac and Tower for Windows. We can't wait to share all these new features with all of you!
As always, we're looking forward to hearing your thoughts when they land in betas or releases.
Thank you for being part of our journey!